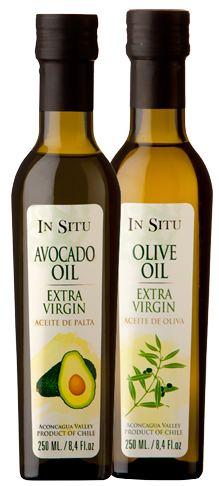 Our Olive & Avocado Oils
Olive and Avocado Oils are a mono saturated fat. Monosaturated fats reduce harmful cholesterol levels. Olive and Avocado oils also contain a wide-range of important anti-oxidants that are not found in other cooking oils.
Extra virgin olive and avocado oils are also rich in phenols. Anti-oxidant and phenols help protect us against the effects of aging, heart disease, and some cancers. These oils are cholesterol free, rich in vitamin E and aids vitamins A, D and K.
In situ avocado oil is cold-processed from the pulp of the finest Chilean hass avocados. It is noted for its pure, fresh avocado taste and bouquet and for its subtle walnut undertones. The smooth, velvety texture of avocado oil enhances natural food flavors and imparts an exotic, smoky-sweet finish.
Extra Virgin In Situ Olive Oil is 100% cold-processed from carefully handpicked olives. It is a clear, intensely golden-colored oil with subtle green highlights. Its aroma is reminiscent of green tomatoes and fresh artichokes. It has a full, fruity flavor suggestive of freshly-cut herbs and a strong finish of almonds and pine nuts. It is noted for its careful balance of both spicy and bitter flavors.